20170301
It's a big week for MIC: we're rolling out our latest brain-child, MIC PGH Publishing! If you're an indie musician or an filmmaker/advertiser/creator of sorts, this one's for you, from us, Dewey & Emily:
We decided to open this Publishing branch of MIC PGH because we had a lot of producers asking us for access to local music to use in their projects (legally, through paying for a license). Now we'll be able to connect these local creators with local musicians so they can "Sync License" music for their movies, TV shows, commercials, and video games. We provide an easy, simple, legal way for people who need music to get and use music.
For a one-time signing fee, local musicians get the opportunity to make money off their music and gain publicity at the same time (two things that usually don't go together in an early music career). We're unique and not a typical "Publisher" because everything we do supports MIC's IMBM (Indie Music Business Model) by respecting indie music careers -- we never ask for ownership of your masters, or percentages of your royalties. We step in, help you get great sync licensing deals, and step out.
‍
However, if you don't understand what Publishing is in the first place, no big. Here's your simplified, quick rundown:
‍
Publishing = Distribution + Licensing
Distribution = streaming + stores + radio (all available from online distributors, here are some examples in this article at Ari Herstand's blog)
Licensing = people who want to use your music for various purposes pay license holders (i.e. YOU) to be allowed to do so (available from Publishers - like us now!)
Publishing = $$$
Let's go through the equations piece by piece:
1) You get paid sales for music sold in stores, paid out by your distributor.
2) You get royalties for streaming, radio play & sync-licensing plays in some cases (like if you're placed in a TV show that goes into syndication), paid out by ASCAP/BMI (whom you apply to by yourself here and/or here, or through your distributor).
3) You get paid through sync licensing deals when publishers strike deals for you, in that moment. ASCAP/BMI will pay you out royalties for the syndication of your plays, like we just mentioned.
MIC PGH Publishing = Unique!
Why? How?? It's simple: We just strike the deals for you. We don't ask for a royalty share, or your masters, nor do we require you exclusively work with us and no other publishers.
‍
Got Music to Publish? Here's what you do.
Step 1) Make sure your music is "Broadcast Quality", or the professional industry standard high-quality that it needs to be so it can play well on all devices, in all settings (think on your earbuds vs. in a department store vs. booming in a movie theater.)
Step 2) Then, get your music distributed (again, explained in this excellent article), and also signed up with the PROs ASCAP & BMI for royalties (if your distributor doesn't do it for you, apply to by yourself here and/or here). You'll usually be able to log into your distributor's site to collect your payment from streaming & sales, and you'll get a check in the mail from the PRO with royalties from when your music is getting played. This is all part of a music release, so you might've already done this with your latest music project. This next part would be new to you.
There are a lot of publishers you can sign to, but oftentimes they're hard nuts to crack because you need connections through a label or music lawyer to get to them. Others have online application processes, but it's a big world out there are many musicians like you are trying to get in.
Step 3) Join the MIC MVMT to get your music added to the Publishing Catalogue! It's a one-time, lifetime fee for all your music releases to be added to our catalogue.
We'll be scouting out deals for our catalogue around the city, but heck, if you think you've got a deal idea with a colleague or yours or a project you're eyeing, tell us! We'll pull strings, talk talks, get papers signed, and get you paid for you music placement!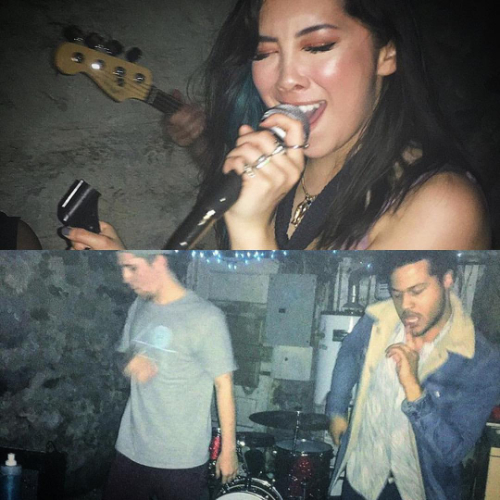 Extra Goodies About Sync Licensing
There are these guys called "music supervisors" all around the entertainment world, scouting out songs for the movies, TV shows, projects, etc. they're hire to fill. So you need to know what songs they're looking for. Songs that deal with common movie "themes" ("let's get the party started," "new beginnings," "heartbreak") without using specific references are the most in-demand. So, listen through your stuff and think about how you'd characterize your songs. We'll be doing that with our MIC PGH Publishing playlists already, but your input is VERY valuable to us because it shows your interest and helps us, so keep in touch with us with your ideas via email at micpghpublishing@gmail.com.
There are other fun details to think about like how music can be placed directly as soundtrack, or as "source music" where it's playing from an item within the production itself (kids sitting around a boombox, or a radio playing from a car that passes by). Once you're in MIC PGH Publishing's catalogue (or "music library" as some call it) your music is available for all purposes like those, and more.
Do it. You know you want to.
‍
We are seriously pumped to get your music sync-ed out -- it's a big part of the IMBM, on the $-side of the pyramid. Read about that here!
Follow those steps above and join The MVMT! If you have any questions, email micpghpublishing@gmail.com or your intern contact person (if you're already assigned one.)
‍
‍