June 2017: The IMBM Countdown is finally here.
20170622, 431pm, Ellen Degeneres Show at my sister's house while watching Cooper the puppy (kinda my puppy now, if you think about it), and now 20170623 630am, Sanctuary Studios.
"Jared always jokes around and says 'Some kid's gonna write a song, he's gonna figure it out. He's gonna sell a million copies of a single by himself and he's gonna make a billion dollars and he gonna say f** you I don't need you [to the record labels]. And then that's gonna be the new beginning."
-Tomo Miličević on Jared Leto, 30 Seconds to Mars, "Artifact", 2012
‍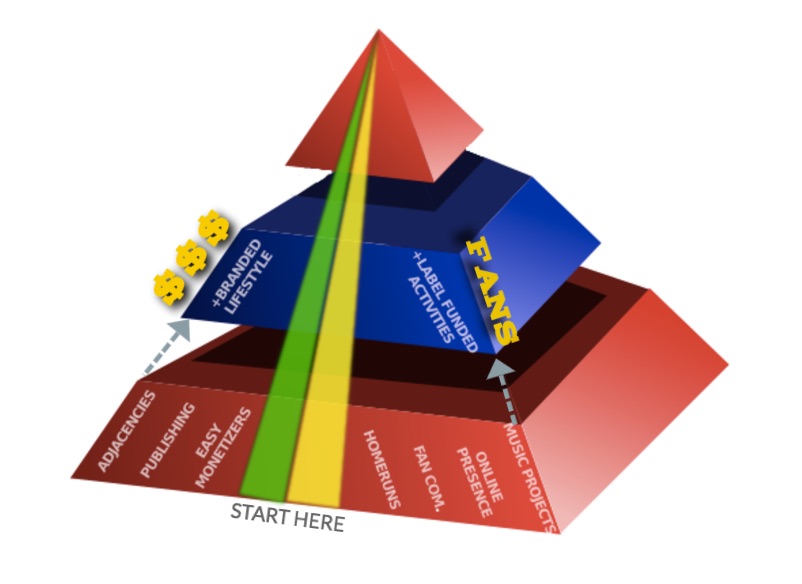 MIC is the crux of where the paradigm shift begins: for indie musicians and fans to stop assuming that signing to a label is the solution to having a music career, and where indie musicians are educated enough to have sustainable careers on their own.
MIC is "Where Music Careers Begin" through our IMBM, Indie Music Business Model.
So the time is finally here. The IMBM is getting released to you in just a few short weeks this July in the "IMBM Blast" where we share the entire business model here at the Sanctuary blog. I truly can't believe it's summer. Yesterday was the longest day of the year and after the intern meeting, I walked from our Shadyside office to Squirrel Hill with Dewey, my MIC Publishing co-creator and music-writing partner-in-crime. 9:15, sun not even set yet. We talked about making a separate gmail account for the Publishing branch, his trip to Europe, and the process for writing Kellee's next album with didgeridoos and water bowls. We talked about Kellee's Decker "Private Sector" episode finally premiering on Adult Swim this weekend.
Can you believe it's been 6 months since I released "January 2017: The Takeoff"? I was there with Kellee Maize as her manager to film her appearance as "Popp" the pop star on Adult Swim's TV show "Decker: Unsealed" with Tim Heidecker. We're releasing her album single* as that Popp character over the next few weeks too (*update: Crown got released!) I need to mention that the interns have been rocking it, too -- we wouldn't be so far into our masterplan this summer without them.
That "January 2017: Takeoff" piece foreshadowed that 2017 would be the year to finally share these past 8 years of MIC research. For those of you that've been along for the ride through the 2014 4 Seasons Series, or the 2015 MPP Crowd Fund, you know my intern teams and I have poured a ton into MIC. All the research, the interviews, the errors, the music scene scouting, the networking -- it created the IMBM.
‍
Let's get you to say "Ooh I get it."
If you're still confused about the IMBM, it's why MIC exists. It's the world's first Indie Music Business Model -- created by indie musicians for indie musicians to answer their questions about how to conduct their unique music career, without a record label, without needing to be in a major music hub city like LA, NYC, or Nashville.
No joke, it's the first business model of its kind. There's been plenty of advice and books and classes to take, but nothing lays out the industry in this no-bullsh*t way to help musicians not fear or miss the critical business pieces that are usually ultra-confusing. The materials available thus far to indie musicians tend to judge and do a lot of projecting -- indie musicians telling other indie musicians they "should" or "shouldn't" do xyz "because I/my band did xyz", etc. For this reason, MIC wanted to create straight-up education in a no-judgement zone.
How'd we start this? Well, we started with the fundamental question almost every musician asks at the very beginning of their career, or their immediate demise: "Where the crap do I even start?" It started because I was an aspiring musician asking that question, a little high schooler me, and I got really sad when I started talking to other people who asked that question and ended up giving up (you'll come to find throughout all the IMBM writing that I'm a feeler, I super-feel things, and feeling this cynicism did not jive with my spunky little hopeful heart.) I had the gut instinct that this wasn't right, especially when I heard the advice of famous musicians about the topic -- so in 2009 I went to Pitt for business school to come up with the concept of MIC. I couldn't stand hearing so much hopelessness, it broke my heart.
So, ever since 2009 we tried to figure out ways to answer that question. We started as a Networking Company, moved into Creative Management, then dabbled straight up in Consulting and even added a corporate marketing branch crossover (haha yeah I'll do anything to make this MIC mission come true). Along the way we just kept trying to answer that question, and finally all the research assimilated and simplified into one cohesive business model.
‍
Godspeed, guys.
The IMBM, Indie Music Business Model, is our way of bowing to other indie musicians in a "godspeed, guys" manner. We spent 8 years deconstructing how the entire music industry applies to indie musicians so that no one else would have to reinvent the wheel. Dude, we did all this research so that you wouldn't have to. Even I follow it all now with my millaze music (you'll see more about this along the way, too), it's not hypothetical.
Plus the IMBM's not a cookie cutter model -- it's a "Choose Your Own Adventure" model, for all dream music career types, and music genres. We represent the myriad of musicians around the country (and the world) that don't like to be told we "should" or "shouldn't" do xyz, or be judged in general.
In fact, we're also opening up a way for indie musicians to join us in spirit, with a few perks and no obligations except to keep being indie like a boss! It's called the MIC MVMT, and if bands/artists join, it'll give us the opportunity to show off the best serious indie musicians to our MIC fans and represent this insanely active indie music scene in Pittsburgh!
Within the IMBM is the info that record labels dangle over musicians' heads, to gain the upper-hand. It lays out the sections of the music industry that applies to you, makes sure no business bases are missed, and simplifies everything into actionable lists. Nothing theoretical, nothing overly complex to try to impress you about how smart we at MIC are -- we're indie musicians here too, so we practice what we preach, and we believe in "K.I.S.S.", Keep It Simple, Stupid.
‍
Yep, the IMBM is free.
Anyway, the point in sharing this article today is that (1) I needed a break from the other ones I'm writing because I was burning out and (2) I felt it was high time to start the countdown for when the IMBM is in the palms of everyone's internet-hands.
Mid-July you'll see that the Sanctuary Blog at micpgh.com will fill up with all the information of the IMBM, including some process manuals for some of the trickier indie tasks, and some dope interviews from famous indie musicians we've been honored to interview along the way.
Yeah that means we're giving away all the info at no cost to you. In a sense this is against everything I teach in the IMBM itself, about when you give away something for free you devalue it so people think it's worth zero dollars (business concept: Devaluation). But there are exceptions to every rule, because we were toying with the idea of publishing books, sticking with consulting, and *blech*. Nothing else made sense.
I made the executive decision that it's futile to hold onto all of this insanely great and useful information, because the industry changes and we have to develop it constantly (i.e. What happens when we have chapters in the book about Spotify, and it takes too long to publish the book, and then Spotify is gone and replaced by something else by the time the book is published, and blech. Blech.). Also, we can monetize our activities later on in different ways so we're in no danger of sharing it.
‍
‍
...because we want people to use it (duh.)
Most importantly, the glory of the IMBM will be when indie musicians actually use it -- so why try to dive into their pockets first? We're good for our word, we promise the IMBM is as great as we say it is, so it needs to be in musicians' hands to start proving we put our money where our mouths are.
That's MIC's (obviously also my) lifelong dream: to see more indie music success stories rising to the top of our culture, everyday. Not just a Macklemore & Ryan Lewis, or a Chance the Rapper popping up every few years -- we want to see uber-successful indie musicians become the norm.
The paradigm shift in the music industry towards preferring indie status is finally here. You'll see as we release all the IMBM info that this doesn't mean labels suck -- in fact, most indie musicians will end up definitely working with a label at some point during their careers, in some capacity. The point of being indie is just that you set the agenda, own your music rights, and lead your own destiny towards your own definition of success. No one tells you who to be, or who not to be. That will now become ancient music history as indie musicians change the game.
‍
‍
TEAM, I LOVE YOU.
MIC's intern team is the biggest it's ever been and we are running around CRAZY preparing all this information for you this July. I could hug each of them out of pure gratitude and excitement every day for extended periods of time if that didn't (1) cut down on productivity, and (2) freak them out a little at some point probably.
We're doing an intern bonding session Tuesday night to screen that Artifact movie I quoted at the beginning of this article -- it shows the $30Million lawsuit 30 Seconds to Mars suffered through with their label, and it's got some of the best infographics I've seen yet about how record labels are outdated financial institutions. Then we'll be back to the grindstone, and you'll hear more from us very soon.
‍
Gametime.
Give us a little time to finish up the website and our masterplan, and follow us on social media in the meantime! We've got seriously exciting things to share -- like Kellee's premiere in that Decker Adult Swim show, the MIC MVMT opening up to the public, some Publishing success stories, and more from our universe of indie musicians here including my music releases this summer.
‍
As always, follow us and share thoughts below, we're here for you. And mad love,
-Emily