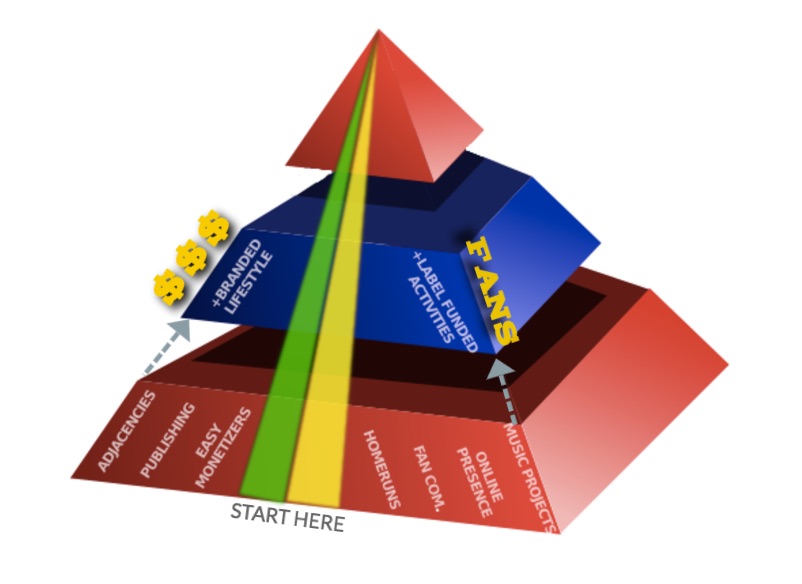 Since 2009, MIC has been diving deeply down into the indie music industry, sorting through the myriad of activities that create music careers so we could rise back up to the surface with the IMBM — a simplified view of the music industry that allows you to choose what makes up your music career, knowing it'll lead to your ultimate career goal.
Basically, if you want a music career, the IMBM will show you how it's done -- because now more than ever it's possible from any city. In this internet age, your niche audience is out there waiting for your music. So far, only a handful of indie musicians have risen to international success (think Macklemore & Ryan Lewis, Chance the Rapper), and they seem like outliers /slash/ inspirational superheroes. Truthfully, they simply followed the structure of the IMBM -- so it's our mission to make indie music success less of an anomaly and more of the norm, and we're doing that by sharing the secrets of their success and how to apply it to you.
We're the first to create a business model that we're developing in real time, in the volatile waters of the indie music industry — so here are 5 things you need to know, to understand why you'll appreciate and use the IMBM.


1. Think of the IMBM as your pocket buddha guru.


The IMBM doesn't judge whether you deserve a music career, or if your music is "good enough." It isn't a magic trick or an overnight success recipe. It doesn't demand you "should" or "shouldn't" do certain activities. The IMBM is your little guru tucked in your back pocket — he's navigated the waters of the music industry already, and he's here to guide you through unknown territory with an understanding, open-minded, loving hand.


2. Realistically, you can have a music career.


If some sort of music career dream ticks inside you, and you can't shake it, then you deserve to give yourself a shot. There are plenty of self-help books and webinars to help you get inspired in that way, so the IMBM doesn't cover that part of launching a music career. Instead, the IMBM proves to you the logistic realities of how you can be a professional indie musician.


3. Indie Musicians have 100% control of their lives.


The IMBM trains you to become an independent (indie) musician -- meaning, you don't sign to a major label. Sometimes indie musicians end up working with labels to some capacity, but overall, indie musicians have 100% control over the destiny of their careers. They do not sign away the ownership of their music over to labels, and they can choose which activities they want to do (or not do).
Maybe you don't enjoy live performance? Don't do it. Perhaps you only like writing original music, not performing covers? Do that. An indie musician's career is in their palm of their hands.


4. Music careers, unlike hobbies, require an income so you're not literally a starving artist.


The IMBM explains how to balance dreams with reality, in a simple way. If you want to develop a career, that means you'll need to make money to have an income. (You'll also need to know how to not do anything illegal by accident because that could derail your career.)
We sifted through the mess of "business" stuff most musicians hate, and simplified the list down to the non-negotiable needs. In the Sanctuary we'll list out how to accomplish each piece of the puzzle and not become a literal starving artist.


5. Every single path up the IMBM Pyramid is different.


Everyone starts by dreaming up their "Definition of Success", and placing that dream life at the top of the Pyramid. Next, you start to decide what activities you want to do to get to that goal — and oftentimes this is where people start to dig themselves into a hole. You google a little, you talk to your friends, you read some books, and then you decide you "should" release an EP, or "shouldn't" do local shows, or, wait, you "should" do local shows? — and the rabbit hole gets confusing and distracting until you've spent years doing what feels like chasing your tail.
Most simply, a music career is a function of two things: Money and Fans, the left and right sides of the IMBM Pyramid. The 2 channels up the center of the pyramid are Business Basics and Product Development, activities that you conduct more-or-less consistently throughout your entire career — but both sides of the Pyramid (Fans & Money) show you all the options for activities that will help you rise up the Pyramid.
We gamified the Pyramid to make it fun, because even though we're all business people here at MIC, we're first and foremost artists so we know how hilariously boring business jargon gets.



The Sanctuary blog will explain each piece of the IMBM with easy-to-read lists, fun real-life stories, and social media-insight into how we do what we do to help indie musicians in Pittsburgh — so become a part of the community here by following us @MICPGH on social media, listening to our MIC PGH Universe of artists and bands, and commenting below!
What part of having your music career stumps you the most? Comment and share below!